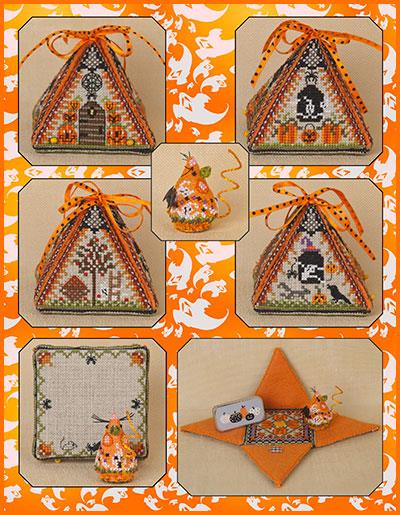 ©2017, Just Nan Inc., by Nan Caldera • All Rights Reserved
Materials included: Color Cover, 12-page Stitch Guide, 24" of Ribbon, Orange Felt, Chipboard Base, Hex Beads, 2 Pumpkin Beads, Wired String Tail, Signature Button Mouse Base, Green Glass Hat, Black Satin Bat, and a little Gingham Heart to decorate a wall.
Not included: fusible craft weight interfacing and straight pins for the hat and bat.
New
Pumpkin Party
Mini-Slide

Haunted Autumn Mouse in a House




JN297LE
SOLD OUT TO SHOPS
Introducing the third design in our NEW Mouse in a House Limited Edition Series. There will be 4 seasonal designs in 2017. All houses will be the same shape and size and each house will have its own mouse included.
Linen:
NOTE: Materials and templates are designed for the specified 32 count linens.

House:
32CT Zweigart Raw Belfast Linen

Mouse:
32 CT Weeks Dye Works Pumpkin Linen
Fibers:
DMC B5200, 310, 580, 581, 613, 640, 645, 648, 720, 740, 782, 801, 817, 898, 900, 947, 972, 3051, 3689, 3777, 3837, 3862
Design Size on 32 CT Linen:
House:
222H X 164W Cut Size: 14" X 10¼"
(35.6cm x 26.1cm). This includes 2" margins all around and 1" between motifs.
Miss GhostlyPumpkin Mouse:
27H X 51W Cut Size: 7" x 7"
(17.8cm x 17.8cm)
House is built from 4 lined triangles attached to a square base. Pretty ribbons tie the sides together. Mouse fits inside! Finishing instructions included.
Miss Ghostly Pumpkin Mouse not available separately.
CORRECTION
Squirrel Backstitch Correction - Page 5