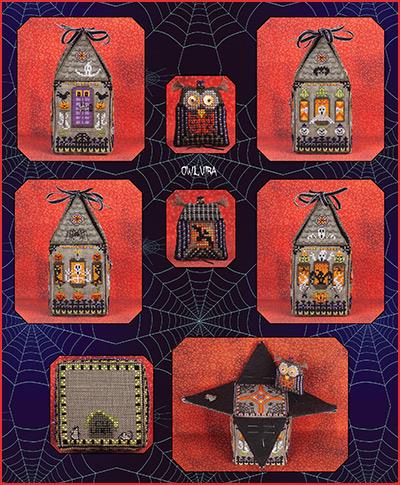 ©2023 Just Nan, Inc. • All Rights Reserved
Materials included:
Color cover, 12-page Stitch Guide, Linen Layout page, 24" of ribbon, black felt, 1 piece of cardboard, beads, owl eye sequins, 2 hairpin wires, spider charm, verdigris frog charm, bronze bead and purple flower.

Not included:
Fusible craft weight interfacing, stuffing for the
house and owl, and a straight pin for the hat.

JN334 • Very Limited Edition
Owlvira's Frightful House

Sold out to shops

Frightful House stands deep in the gloomy shadows of Haunted Hollow. When the leaves begin to fall, the house wakes up, and all the inhabitants take their places to show us how scary they can be. Owlvira Owl is the house manager. She has a room in the attic where she plans all the entertainment for each frightful night. The Stitch Guide includes behind the scene stories for each side of the house.
Fences with garlands of purple lights surround the house, and the front door has a spider knocker. Ghosts, grimacing pumpkins, frogs, bats, spiders, skeletons, monsters and one menacing mummy appear on the 4 sides of the house, and you will find more creatures on the roof and in the creepy crawl space below. Owlvira's attic room features a spider web rug and black felt walls for needles and pins (and a little frog charm).
Using DMC and 4 shades of Weeks Floss, stitch the house as one piece on one large piece of linen, the 4 roof sections on another and Owlvira on a third piece. Linen choices are Weeks 32 CT Tin Roof Linen or Zweigart 32 CT Dark Cobblestone Belfast Linen. Finished size for the bungalow is approx. 5½" X 2¼".
Owlvira is stitched as one piece, then folded in half. Black and purple beads sparkle on her chest and her eyes are hypnotic orange sequins. A bat flies across a harvest moon on her back. Black hairpin wires are included for her "feet" and a bronze bead and purple flower sequin for her hat. Owl is not available separately.

JN333
Autumn Mix

A delightful mix of all things Autumn – colorful leaves, grapes, pumpkins, apples, acorns, purple asters and a chrysanthemum in the center, this circular piece joins our other "Mix" designs. Stitched on 32 CT Zweigart Raw Belfast Linen with DMC and Weeks Peach Cobbler Floss. Embellishments are a Lavender Iris sequin and Rainbow Bronze beads. Design measures 3¼" in diameter