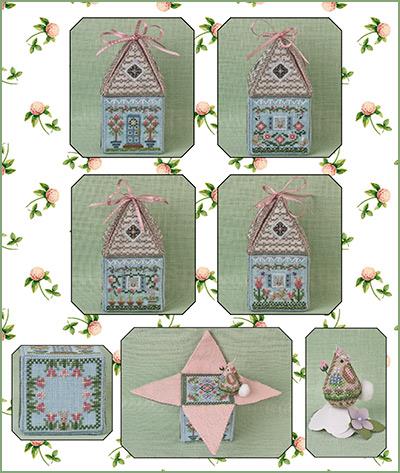 ©2018, Just Nan Inc., by Nan Caldera • All Rights Reserved
Materials included:
Color Cover, 12-page Stitch Guide, 24" of Ribbon, Pink Felt,
6 pieces of Cardboard, Pale Pink Beads, Pompom Tail,
Signature Button Base and a Pink Rosebud.
Not included:
Fusible craft weight interfacing, stuffing for the bungalow and bunny, and Scotch tape for the cardboard pieces
Cloverly Bunny not available separately
Backstitch front steps with 1 of 801.
Cloverly's Bunny Bungalow
JN301LE
Limited Edition 2018

Linen:

Bungalow:
32 CT Weeks Morris Blue Linen
Roof:
32 CT Weeks Platinum Linen

Bunny:
32 CT Zweigart Country Mocha Belfast Linen
NOTE: Materials and templates are designed for the specified 32 count linens.


Fibers:
DMC B5200, 210, 310, 646, 704, 801, 930, 931, 932, 3345, 3346, 3347, 3687, 3688, 3689, 3752, 3837,3853, 3855, 3862, 3863, 3864
Design/Cut Sizes on 32 CT Linen:

Bungalow:
153H X 115W • Cut Size 13½" H X 11½" W
(35 X 20 cm)
Roof:
106H X 106W • Cut Size 10" H X 10" W
(26 X 26cm)
Bunny:
27H X 51W Cut Size: 7" x 7"
(18 X 18cm)
Cut sizes include 2" (5.1cm) margins