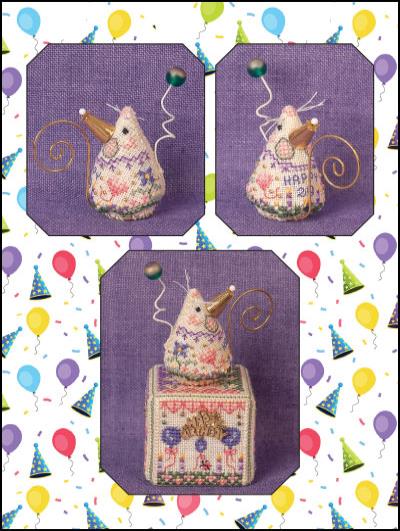 © 2020, Just Nan, Inc., All Rights Reserved

JNLEBM • Birthday Mouse
Limited Edition Ornament
Just Nan is celebrating 29 years this summer, and a Birthday Mouse seems like a great way to celebrate! This little mouse is wearing a special gold birthday hat secured with a white top pin and a gold star sequin. She holds a balloon created from a frosted teal bead and a white wire string. Her birthday outfit features heart balloons, flowers and candles, topped with a lavender fringed scarf. Gold beads are scattered like confetti. "Happy 29" is stitched on the back. We provide numbers for you to personalize. Everyone has a birthday!
Use DMC and Weeks 1094 Linen floss to stitch the mouse on 32 count Weeks "Linen" linen. Finishing instructions are included. Stitcher will need to provide stuffing.
Birthday Mouse is loaded with embellishments which include the gold tail, signature brass button for the base, gold beads, gold hat and pin, gold star, frosted teal balloon bead and white wire.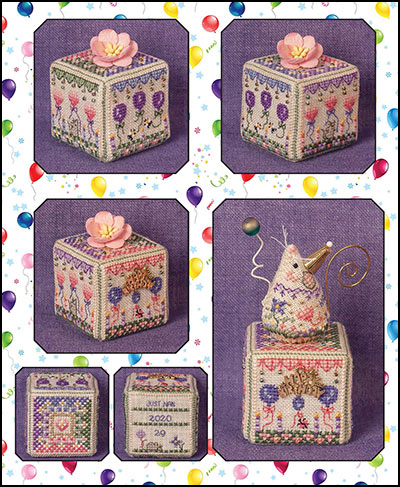 JN317 • Birthday Garden Cube
The celebration continues with a trip to the garden. Each side of the cube features a different garden scene filled with balloons, striped candles, birthday bunting, flowers and our favorite garden characters. Look for 2 little mice, Lady Scarlet, Barnabee and Bella, all holding balloons. Multi metallic beads decorate the bunting and a special gold "Happy Birthday" charm tops one of the garden scenes. The bottom of the cube has places for a name, the year, and the birthday number. We provide an alphabet and numbers.
Stitch it with DMC, Weeks 1094 Linen floss and Kreinik 3202 #4 gold braid on 32 CT Weeks "Linen" Linen. Birthday Mouse sits on top, thoroughly enjoying the day. When the mouse leaves her perch, you can replace her with a pretty faux flower.
You will need to provide stuffing for the cube and cardboard to slide into the base.