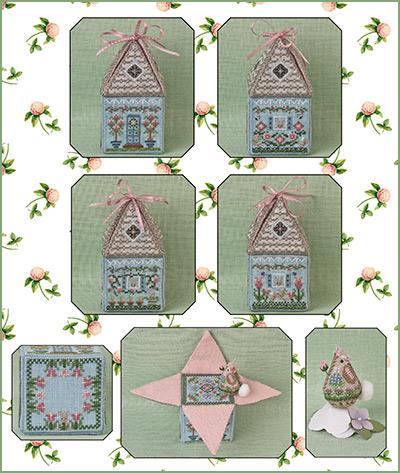 JN300LE • Frosty Winter Mouse in House
© 2018, Just Nan, Inc.All Rights Reserved
Materials included: Color Cover, 12-page Stitch Guide,
24" of Ribbon, Pink Felt, 6 pieces of Cardboard,
Pale Pink Beads, Pompom Tail, Signature Button Base and a Pink Rosebud.
Not included: Fusible craft weight interfacing, stuffing for the bungalow and bunny, and Scotch tape for the cardboard pieces.

Cloverly Bunny
Cloverly's flowery dress has a clover border and a long-stemmed rose in the back. She has a fluffy tail and holds a pink rosebud from her garden.
Linen for Bunny:
Stitch Clovery on Zweigart 32 CT Country Mocha Vintage Belfast with DMC.

Design area: 27H X 51 W • Cut Size: 7" X 7"
Bunny not available separately
Cloverly Bunny lives in a quaint little bungalow visited by lots of brothers, sisters and cousins. It is a very busy place. Bunnies hide behind large flower pots, jump in watering cans, chase each other through the garden and peek out of windows. When it gets to be too much, Cloverly hops on up to her quiet attic retreat where she sits on her pretty flower rug and watches the sunlight dance through the stained-glass windows.
You will find busy bunnies on all sides of the bungalow, as well as flower garlands, bees, carrot pots and butterflies. There are 9 bunnies in and around the bungalow, not including Cloverly. Can you find them all? Three sides of the garden have wrought iron inverted heart borders. The front door handle is a carrot!
Linen for Bungalow:
Stitch the bungalow as one piece on Weeks 32 CT Morris Blue Linen, the roof in 4 pieces on Weeks 32 CT Platinum Linen.

Design area Bungalow:
153H X 115W
Cut Size 13½" H X 11½" W

Design area Roof:
105H X 106W
Cut Size 10" H X 10" W
Finished size for the bungalow is
5" X 2 ¼".
DMC
B5200, 210, 310, 646, 704, 801, 930, 931, 932, 3345, 3345, 3347, 3687, 3688, 3689, 3752, 3837, 3853, 3855, 3862, 3863, 3864

Click Materials Checklist button above for printable list of supples needed