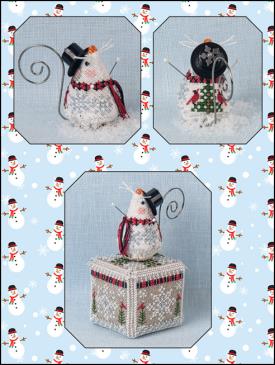 Frosty Chillingsworth Mouse

© 2019, Just Nan, Inc., All Rights Reserved
JNLEFCM • Frosty Chillingsworth Mouse & Embellishments
Limited Edition Ornament
Frosty Chillingsworth is a very dapper and very happy snowman mouse, and he's here to lift your spirits during the long winter months. He has a half-carrot nose and wears a black top hat and sporty red and black plaid scarf. His winter sweater features beaded snowflakes and a fir tree with tiny cardinals stitched over 1 on the back. White tipped pins serve as his stick arms with mittens. A snowflake has landed on his hat!

Included are 2 colors of beads, silver tail, our signature button for the base, top hat, snowflake sequin and 2 pins for the arms. You can change the color of the "mittens" with markers.
Stitcher will need to provide stuffing and a straight pin for the hat. Complete finishing instructions for the mouse are included.
Frosty Chillingsworth Mouse is stitched on 32 CT Zweigart White Belfast Linen with DMC and Kreinik 3231 #4 Braid.
Design area is 2" X 3 ½". Click image for more details.
© 2019, Just Nan, Inc., All Rights Reserved
JN307 • Frosty Snow Cube

A snowman mouse needs a perch! Each side of this sparkling winter cube features a large beaded snowflake surrounded by tiny fir trees topped with red birds. Like all snowflakes, each is different. (Diagrams are provided for the tiny trees and the even tinier birds.) Fir trees and snowflakes mingle on the top. The cube is wrapped in a cozy red and black plaid scarf to match Frosty C, and the 4 corners are decorated with moonshine snowflake sequins.
This is the third design in our series of winter cubes, joining Pink Ice Cube and Pansy Ice Cube.
Stitched on 32 CT Zweigart Raw Belfast Linen with DMC and Kreinik 3231 #4 Braid. Design area is 6 ½" X 5".
Included are silver crystal beads and 4 snowflake sequins plus complete finishing instructions. Stitcher will need to supply heavyweight fusible interfacing, stuffing and straight pins to secure the sequins.
We show the cube 2 ways, with Frosty Chillingsworth Mouse or a tiny bottlebrush tree perched on top. Find the little tree at craft stores or online. Sadly, we do not have a tree lot.