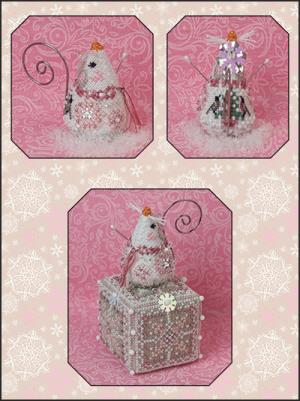 © 2020, Just Nan, Inc., All Rights Reserved
JN278 • Pink Ice Cube & Embellishments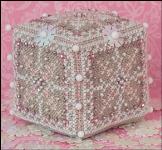 Crystal is shown on our Pink Ice Cube published in 2015 and 2017. It is still available for those who do not have it.
JNLECSM
Crystal Snowlady Mouse & Embellishments
Limited Edition

Crystal Snowlady Mouse is Frosty Chillingsworth's new lady friend. The two snow mice hope to make you smile during the long winter months. Crystal is wearing a sparkling snowflake hat and a pretty pink scarf. Her winter sweater dress features lavishly beaded and sequined snowflake flowers. Tiny robins stitched over 1 perch on a snowy fir tree in a pink pot at the back. White tipped pins serve as her stick arms with mittens.

Included are 3 colors of beads, silver tail, our signature button for the base, 2 small sequin flowers for the dress, 2 large sequins and a crystal pearl for the hat, plus 2 pins for the arms. You can change the color of the "mittens" with markers.
Stitcher will need to provide stuffing and a straight pin for the hat. Complete finishing instructions for the mouse are included.
Crystal Snowlady Mouse is stitched on 32 CT Zweigart White Belfast Linen with DMC and Kreinik 3231 #4 Braid. Design area is 2" X 3 ½".
NST16 • Blizzard Needle Slide
Our new winter slide features gorgeous snowflakes on a deep blue background. Gold hologram stars embellish 2 of the snowflakes.
The sliding top snaps shut and there is a magnet inside to capture pins and needles. Use it to store a beading needle and beads for a current project.
It makes a great gift!