© 2020, Just Nan, Inc., All Rights Reserved
JN315LE • Heather's Hedgehog House
Limited Edition 2020
Heather Hedgehog lives in a cozy little A frame house deep in the hedges of a country garden. Outside, the walls are covered with branches, vines, roses, wildflowers and berries. (Lady Scarlet makes a cameo appearance!) Two violet-painted windows help Heather check for visitors like her good friend Little Hedgie. Inside the home, houndstooth wool keeps her warm. She proudly flies her personal hedgehog flag from the roof.
Use DMC and 2 shades of Weeks floss (2159 Seaweed and 2321 Plum) to stitch the house as one piece on Weeks 32 CT Lilac linen. Add matte rose beads for berries. Line the piece with wool and fold it into a cute little A frame house with sides joined at the roof line. The house measures 2" X 2 ¼" and is actually big enough for 2 hedgehogs who don't have to worry about social distancing.
Heather Hedgehog is stitched on Weeks 32 CT Platinum Linen with DMC. Her coat is embellished with grape and antique white beads plus twisted bugle beads pinned in place for the perfect hedgehog look. She is wearing a lavender sequin flower/lilac pearl hat. Heather is not available separately.
Complete finishing instructions for the house and the hedgehog are in the Stitch Guide, plus a special Hedge Rose stitch diagram.
Materials included: Color Cover, 8-page Stitch Guide, overdyed houndstooth wool, signature button base, sequin flower hat, lilac pearl, hedgehog flag and beads. Not included: fusible heavy weight interfacing, stuffing for the hedgehog, and straight pins.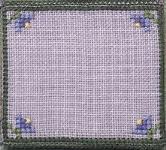 Bottom of Hedgehog House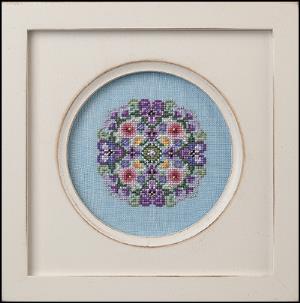 JN316 • Pansy Mix
Designed as a companion to Wintry Mix and Jasmine Mix, this lovely 3" circle is filled with pansies, roses, daffodils and other small blossoms, embellished with white pearl and gold crystal beads. Two flower sequins are layered in the center. All beads and sequins are included.
Stitch it with DMC on 32 CT Weeks Morris Blue Linen. Eight of the flowers are Crossed Rice stitches, diagram is included.