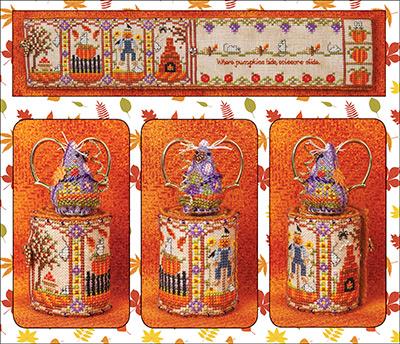 Autumn Mouse Scissor Roll
© 2019, Just Nan, Inc., All Rights Reserved
Materials included
Color Cover, 8-page Stitch Guide,
overdyed sweet potato wool,
wired string tail, signature button base,
copper cap, purple beads,
snap, maple leaf and the grapes charm.
Not included
Fusible craft weight interfacing,
stuffing for the mouse, scissors.
JN312LE
Autumn Mouse Scissor Roll & Embellishments
This is the third design in our series called Mouse on a Roll (MOAR). All scissor rolls in the series will be the same size, and each will feature a guardian mouse. The rolls are designed to hold 3½" or 4" scissors of your choice.
Each of the mouse garden scenes on the outside of the roll features a mouse (or 2) and a moment in an autumn garden. Look for an apple tree with gathered apples beneath it; a mouse on a pumpkin sitting on a fence; a scarecrow with sunflowers and crows, and an outdoor fireplace for chilly nights. Fall flowers separate the scenes which are grounded with graphic autumn leaf patterns. The scenes are embellished with sparkling purple beads. A gold cluster of grapes charm marks the closure. Inside,
3 little helper mice scurry through acorns, grapes and apples to a secret pumpkin patch - the padded pocket for the scissors. Find a fourth mouse behind one of the pumpkins! The verse: "Where pumpkins hide, scissors slide."
Use DMC floss and Weeks 2239a Carolina Cecil to stitch the roll as one long piece on Zweigart 32 CT Vintage Country Mocha Belfast Linen. Form a scissor pocket with the overdyed wool backing, sew on a snap and roll it up! Four mouse garden scenes will show on the outside, the path to the scissors and verse will be inside and your scissors will stand at attention in the middle. Place Harvest Mouse on top of the roll to guard the scissors.
Harvest Mouse is stitched on Weeks 32 CT Grape Ice Linen. Her dress is decorated with autumn fruit and flowers and purple beads. Her hat is a copper bead cap, her tail is gold wired string and she is holding a satin maple leaf. She is not available separately.
Complete finishing instructions for the roll and the mouse are in the Stitch Guide.