JNLEHFW • Hazel FunWitch Mouse
© 2018, Just Nan, Inc.All Rights Reserved
JNLEHFW
Hazel FunWitch • Limited Edition

Description:
There's a new witch in town, and as her name implies, this little witch is all about fun! Hazel's goal is to ride so high she can sweep stars from the sky. She happily joins her cousins, Miss Witchy Mouse and Witchy's Sister Mouse.
Her colorful dress features stars, spiders and a ghost pumpkin. She wears a purple hat trimmed with a swampy green crystal and rides a broom of houndstooth orange wool embellished with a tiny star.

Kit Contents:
Kit includes the witch hat, gold tail, purple beads, brass button base, tiny star sequin and wool for the broom. Stitcher will need to provide stuffing, a round toothpick for the broom handle and a pin to attach the hat. As always, easy finishing instructions are included.
Linen:
Stitch Hazel FunWitch on 32 CT Zweigart Stone Grey Belfast Linen with DMC. Design area is 2" X 3 ½", and she measures 2" tall. When she isn't jetting around on her broom, she prefers to sit on the Witching Hour Cube.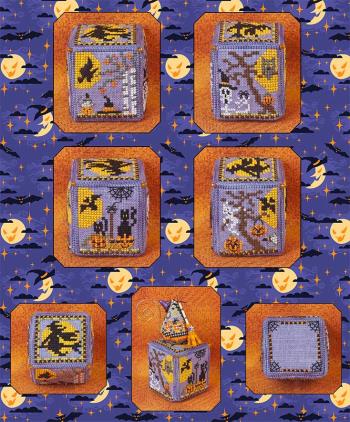 JN303 • Witching Hour Cube
JN303 • Witching Hour Cube
Description:
It's that eerie purple hour on Halloween eve when witches ride across the moon. All of the usual Halloween suspects turn out to watch on this moonlit cube: a wide-eyed owl, bats and cats, Mr. Bones in a witch hat, ghost lingering in a tree, grinning jack-o-lanterns, spooky spiders and 2 little mice wearing their witch hats.
Embellishments:
Embellishments include midnight hex beads to dance around the base, a black satin witch on broom to attach to a moon, and 4 orange crystal beads to decorate the tops of the side seams. Our newest witch mouse, Hazel FunWitch, is shown perched on top.
Linen & DMC/Weeks Floss:
Stitch the cube on Weeks Dye Works 32 count Peoria Purple Linen with DMC and 4 shades of Weeks floss (2201, 2207, 2230A, 2333). Easy finishing instructions included.

You will need to supply heavy weight fusible interfacing, stuffing, a small piece of cardboard and pins.
Cut size, including 2" margins, is 9 ½" X 11 ½" for 32 count. The finished cube measures 1 ½" X 2".
Just Nan Stitcher's Newsletter
August, 2018
©2018, Just Nan, Inc. • All rights reserved