© 2021, Just Nan, Inc., All Rights Reserved

JN323
15 Tiny Gardens & Embellishments
Introducing a new 15-sided biscornu to remind you of spring and summer gardens all year long. Take a close look at 15 Tiny Gardens. Each little garden showcases buds and blossoms worked in soft shades of pink and lavender. Moving among the pretty petals and leaves are some of our favorite garden visitors – ladybugs, bees, bunnies, butterflies, garden mice and lots of dragonflies. There is a lot to see, and it is all fun to stitch. Our Floral 15 has been a favorite for 12 years, and this is a great companion piece.
Use DMC and 1 skein of Weeks #1137 Rose Quartz floss to stitch 10 garden squares on 32 CT Zweigart Ant. White Belfast Linen and 5 squares on 32 CT Zweigart Baby Pink Belfast Linen. Follow the instructions and photos to magically transform all 15 squares into this stunning biscornu.
Add lots of beads! Each piece is lavishly embellished with cream pearl and soft pink beads. The finished biscornu is centered on both sides with a crystal/pink coin bead, then decorated at the corners with 10 Swarovski pink pearls and across the middle with 5 gold embossed beads.
We provide complete finishing instructions, photos and all the embellishments. You will need to provide stuffing and straight pins or sequin pins to attach the gold beads.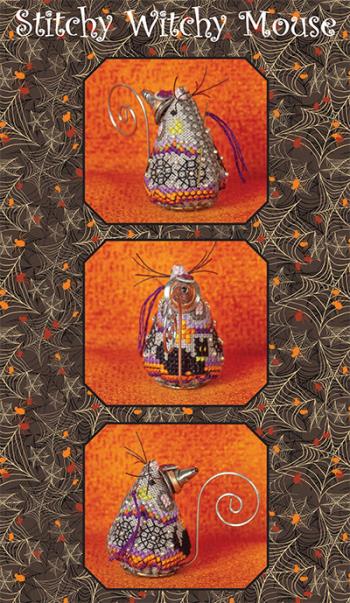 © 2021, Just Nan, Inc., All Rights Reserved

JNLESWM
Stitchy Witchy Mouse
Limited Edition Ornament
Miss Stitchy is our latest little witch and a cousin to all the other witch mice. She is known for her fine needlework and does all the sewing, embroidery and mending for the "coven". She designed her dress with beaded cobwebs, colorful accents and Midnight, her cat, on the back. And why does a mouse have a cat? Because she is a witch and cast a spell on him, of course! Stitchy Witchy is holding her favorite needle and wearing a very stylish hat adorned with a lime green sunburst sequin and purple flower.
Stitch your witch on 32 CT Zweigart Stone Grey Belfast Linen with DMC floss. Embellishments include a silver tail, our signature button base, antique silver beads, gold needle and the decorated witch hat.
Materials included
Silver hanger for the tail
Ant brass button for base
Ant silver beads
Witch hat with flower
Gold Needle

Materials Needed
Polyfill or cotton balls
to stuff the mouse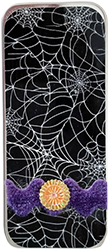 FTNST01
Cobweb Fancy Trim Needle Slide
Cobweb is the first in our new line of Fancy Trim Needle Slides. Lacy cobwebs drifting across a midnight black background are decorated with purple velvet ric rac trim centered with gold and orange sequins. A very elegant Halloween accessory! The webs on each slide will vary. Each slide has a strong magnet inside to hold needles or pins. It is also a handy place to store your beads or other little treasures.