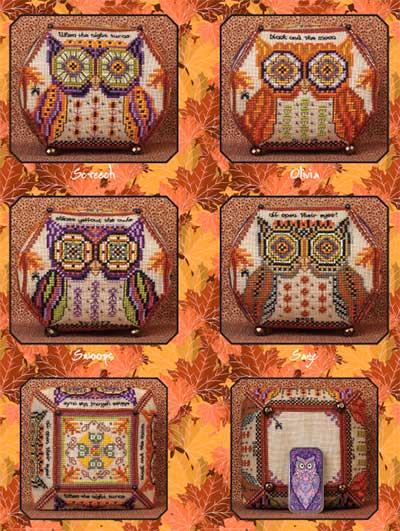 © 2020, Just Nan, Inc., All Rights Reserved

JN318LE
Owls of October II
Limited Edition for 2020
"When the night turns black and the moon shines yellow, the owls all open their eyes!"
Last seen in 2011, the Owls of October are returning for another limited engagement. This time around they are celebrating autumn with new design elements, new linen, some new colors and new embellishments. The names are the same and the eyes are still a magical combination of floss, metallic braid and beads. The octagonal cube now rests on bronze "feet" and black ball pins are included for the top. You will love stitching this!
Use DMC, Kreinik #4 Braid 5011 and Weeks 1331 Brick floss to stitch the owls on 32 count Zweigart Vintage Country Mocha Belfast Linen. Finishing instructions are included. Stitcher will need to provide interfacing, stuffing, and 4 straight pins.
Included are 2 colors of beads, black pins, large bronze beads, and cardboard for the bottom of the cube.

MST7
Lavender Lady Owl Mini Slide

This lady owl has large green eyes and swirling lavender and pink feathers.
A pretty autumn addition to your needle slide collection.
This is not an auto item, minimum is 3