JN294 • Tiny Bunny Biscornu
© 2017, Just Nan, Inc.All Rights Reserved
JN294 • Tiny Bunny Biscornu
Embellishments Included

White bunnies and daffodils on one side, brown bunnies hopping through roses on the reverse…and please note that the white bunnies have whiskers! Perfect for spring and/or Easter, this little biscornu measures just 2".
Stitched with DMC on 32 CT Weeks Dye Works Lilac Linen, the design
area is 5 ½" X 2 ¼".
Finishing instructions are included along with 2 colors of beads, lavender pearl crystals for the centers and lavender silk ribbon to dress up the seams. Stitcher will need to provide stuffing, brass sequin pins and heavy white thread for the whiskers.
JNCGP38
Bright Bunny Pin

CGP38 Bright Bunny Charm Garden Pin is available separately. He has painted ears, nose and eyes, a pretty glass egg-shaped bead under his chin and a glass flower at his feet (color of the flower will vary). We have a limited number of pins available (600), so order with the biscornu.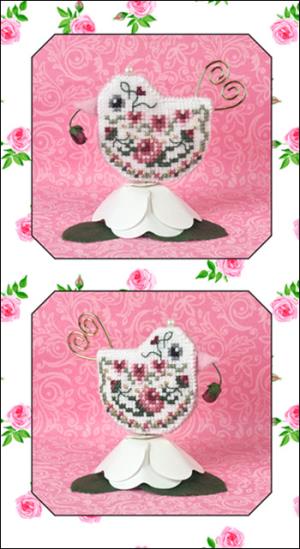 JNLERT • Rosebud Tweet
©2017 • Just Nan, Inc. • All Rights Reserved
JNLERT • Rosebud Tweet
Embellishments Included
Rosebud is the sweetest little bird, all decked out in roses and tiny pink hearts! Her seams are pink, her tail is a gold heart, there is a rosebud in her pink beak and a little pearl pin on top of her head.
Stitch her in DMC on Zweigart 32 CT White Belfast Linen. Design area is
3 ½" X 2".
Included are gold beads, gold tail, pink felt for the beak, little pearl pin for the head and the rosebud.
Stitcher will need to provide fusible interfacing and fleece batting. Complete finishing instructions are included.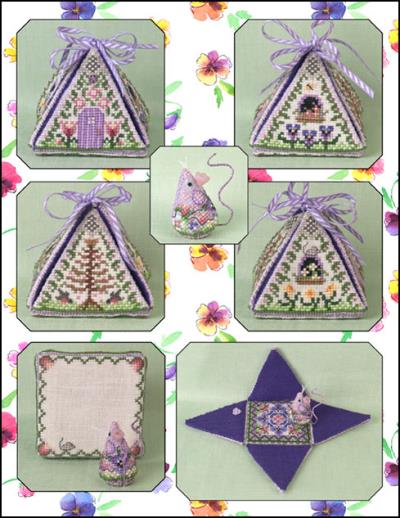 JN295LE • Spring Mouse in a House
©2017 • Just Nan, Inc. • All Rights Reserved
Materials included

Color Cover, 12-page Stitch Guide, 24" of Ribbon, Purple Felt, Chipboard Base, Beads, Amethyst Flower Bead, Wired String Tail, Signature Button Mouse Base, Pink Bellflower, and a little Gingham Heart to decorate a wall.
Not included: fusible craft weight interfacing.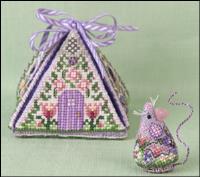 JN295LE Spring Mouse in a House
Embellishments Included
Limited Edition of 700
Introducing our new "Mouse in a House" series. There will be 4 seasonal designs in 2017. All houses will be the same shape and size, but stitched on different linens. Each house will have its own little mouse included.
The Spring House is built from 4 lined triangles attached to a square base. Pretty ribbons tie the sides together. Vines and rosy beads climb the walls of the house and flowers bloom in the yard. The lavender front door nestles between tulips. Blossoms above the door include an Amethyst glass flower bead. On the sides of the house, pansies bloom under one window box, daffodils dance under the other. The backyard has a flowering tree crowned with a nest and 2 robins stitched over 1. Look carefully and you will see a little mouse on top of one window. Inside, deep purple felt walls surround a fancy floral rug. Beneath the rug, another little mouse scurries around the base. The felt walls can hold needles and pins or tiny embellishments.
Spring House is stitched with DMC on a single piece of 32 CT Weeks "Linen" Linen with DMC.
Cut size is 14" X 10 ¼" which includes 2" margins. Finished house measures approx. 2 ¾' X 2 ¾".
Miss Pansy Mouse lives in this house. She is wearing spring flowers (a pansy is centered on her back) and a pink bellflower hat. Her tail is lavender wired string. She fits inside the house.
Stitch her on 32 CT Weeks Lilac Linen with DMC. Design area is
1 ¾" X 3 ¼". Mouse is not available separately.
LAST CALL
During 2017 Just Nan will discontinue several designs and products due to limited availability of both leaflets and embellishments. Over the course of this year, there will four LAST CALL events for shops to purchase what we have remaining of these designs. Designs will be selected for each Quarter starting in January and then in April, July and finally October. Designs will be available until they either sell out or the end of the quarter, whichever comes first.

You can view Last Call designs by going to our home page (justnan.com) and clicking on the
Last Call link or click on the Last Call image above. Each quarter, about 14 designs will be featured.
Let your local shop know if you have any interest in any of these soon to be retired designs.